Application
The idlers are playing a important part in the belt conveyor system.
They consist in the entire transport process to support the belt and move the materials loaded on the belt.
Features
Fine welding tube ensure the rollers with low vibration and noise;
Special design and particular labyrinthine seal style prevent the corrosion by impurity, water and air etc.
Working life: 30,000 - 50,000 hours.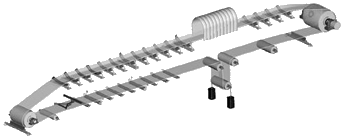 Conveyor Idler Material Ranges
Steel idler
Nylon idler
Ceramic idler
Plastic idler
HDPE idler
Conveyor Idler Type Ranges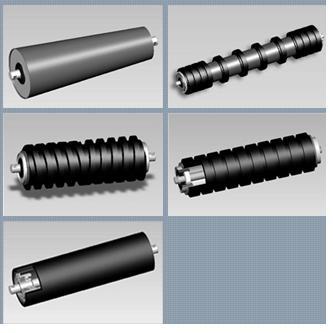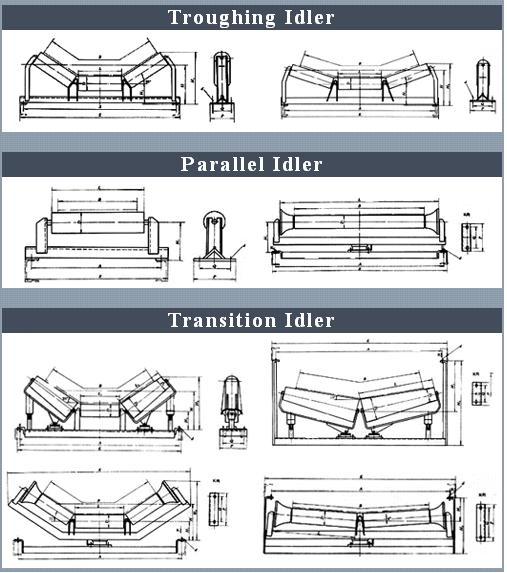 Description
Skirting rubber is a general purpose rubber used mainly in the mining industry as a side skirt on conveyor belt systems to prevent the materials falling down.
It is available in full width slabs up to 2000 mm wide and also pre-cut skirting strips.
STD 60 Duro A general purpose grade of natural rubber used for many quarrying and mining applications in dust and spillage control.
Soft 40-50 Duro A softer grade natural rubber, with good tensile and elongations properties, it is ideally suited for conveyor skirting applications where belting wear is of concern.
The rubber is also used where a flexible, but abrasive resistant seal is required.
Specification
Width: 76 -- 2,000 mm

Thickness: 2 -- 50 mm

Roll length: 3 -- 30 m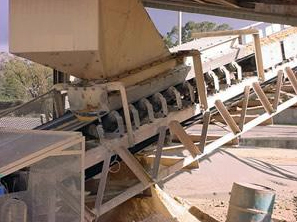 Parameter Of Rubber
Tension strength: Normally 2.5mpa -- 6mpa,
Elongation: ≥ 250%, 300%
Hardness: 50, 60, 70 shore A
Other specification available as special order.
Description
Chute Lining is designed to be an integral part of a conveyor system to protect and cushion the chute from the material being handled.
Main Features
Protects chute from wear and corrosion;
High wear and cut resistance;
High impact resistance;
Significantly reduces noise pollution;
Available in various sizes and thicknesses;
Reduces build-up and facilitates free flow;
Special applications available: abrasion-resistant, chemical, heat and etc.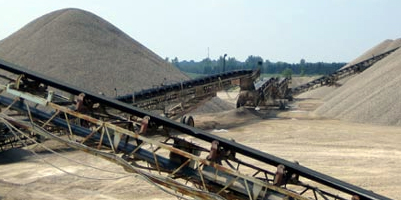 Description
Conveyor Belt when slips causes significant damage to the drive pulley and the belt.

Such damages are not only expensive to repair, but also time consuming and cause enormous loss due to down time. The life span of a conveyor system primarily depends on its being suitably equipped for the specific application and the standard of servicing and maintenance. The conveyor systems often have to perform in the most difficult conditions.

For example rain and sludge, which cause slippage between the conveyor belt and pulleys because of the friction co-efficient between the two going down very low.

Pulley Laggings, with specially developed rubber materials and their patterned surfaces have proved to be very effective in water shedding, preventing material build up and controlling belt slippage.

Diamond Profile black lagging is ideal for small diameter pulleys on systems with black conveyor belt.

It prevents belt from slippage (in particular when water is present) and increase the drive traction of the pulley.

For Drive pulleys, a friction lagging should always be used. The type of friction lagging should be selected by the customer according to its application.
Availability
Widths ranging from 1,000 -- 2,000 mm
Thickness: 8 -- 12 mm
Length: 10 -- 20 M
Technical data:
Tensile strength: 7MPA
Density: 1.45g/cc Elongation:300%
Other specification available as special order.
Application
Hot vulcanize machine is mainly made of aluminum and used for the splicing of rubber conveyor belts including EP, NN and Steel cord belt etc. It can be widely used in metallurgical plants, mines, electric power plants and docks etc.
Features
Small in volume
Light in weight
Easy handling
Technical Parameters
Vulcanize pressure: 1.5 Mpa (15 kg / cm2); 1.8 Mpa (18kg / cm2) also available;

Vulcanize temperature: 145°C (adjustable);

Temperature-rising time: within 40 min;

Power voltage: 380V/50 Hz, or 660 V.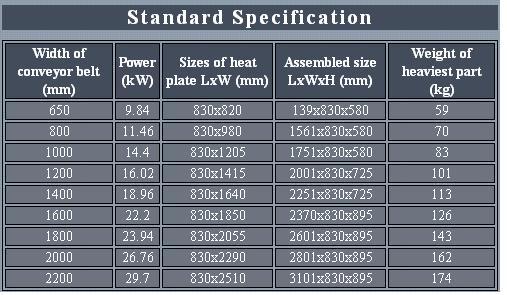 We can offer all kinds of fasteners which can be used for light and heavy duty conveyor belts in different width.
Description
Belt repair machine:
Mainly made of aluminum and suitable for repairing the part punctures, penetrate and damages, etc.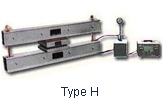 Belt Barker
Easily strip off rubber cover from the conveyor belts.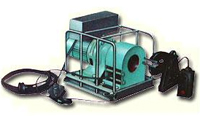 Tools
Hole punching is a value added service, we can help to punch holes on conveyor belts as per customers' requests or drawings.