Others
Agriculture Belt
Material is CR.

It has the feature of oil and heat resistant, aging-resistant.

High resistance to wear & tear.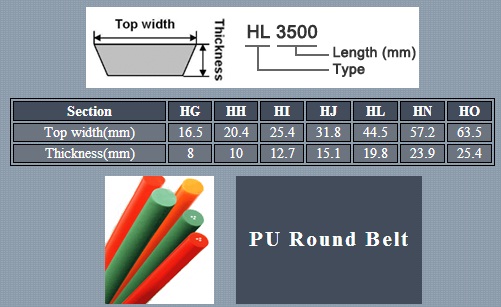 For PU round belt, we can offer full range rough and smooth round belt

Color: green & orange

Diameter: 2mm ~ 25mm
PU V-Belt
For the belting anti-oil, anti-abrasion, anti-bending/flexible and high tensile strength, it is also anti-chemical corrosion, easy to wash and solder, are widely used in the Ceramic, Food, Electronic, Textile and Stone industries Etc
Perforated Belt

Open-ended V-belting with joint holes can be adjusted to required length simply with splicing bracket.

Sections: O, A, B and C
Linked V-Belt

Linked v belt can be installed without removing bearings, resetting, tilting or moving motors.

Fits all conventional drives and delivers power with minimum vibration.

Available in regular and oil-proof construction and in O, A, B, C, D cross sections.
Pulley

We can provide full range of pulley for timing belt MXL, XL, L, H, XH, 3M, 5M, 8M, 14M and etc.