Product Features
The general fabric conveyor belt is made of EP, NN or Cotton fabric and finished through the processes of calendering, firming and vulcanizing, etc.
It is suitable for conveying in normal temperature various non-corrosive pointless lumps, granular or powders such as coal, coke, sand and cement in bulk or packaged.
We could offer belt with cover grade in accordance to International standard such as DIN 22102, RMA, AS 1332, SABS 1173/2000, , IS 1891, BS 490, JIS K 6322, etc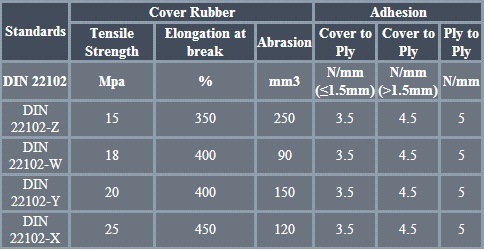 Polyester Conveyor Belt:

Polyester conveyor belt, also called EP or PN conveyor belt, whose tension resistant body is canvas woven by polyester in warp and polyamide in weft.
The belt has the characteristics of low elongation in warp and good troughability in weft, good water resistance, good wet strength, suitable for medium, long-distance and heavy-load transportation of materials.
Because of the high initial modulus of polyester, the belt can choose a relative low safety factor.
Specification Availability
Nylon Conveyor Belt:

Nylon is one of the best quality synthetic fiber the rubber industry use nowadays.
The nylon canvas is woven by nylon fiber both in warp and in weft, it is the most widely used fabric in rubber industry, and its outstanding merits are its high abrasion resistance, high tensile strength and good fatigue resistance.
Conveyor belt with nylon canvas inside has the characteristics of thin belt body, high tensile strength, good shock resistance, good troughability, high adhesion between plies, splendid flexibility and long working life.
Nylon conveyor belt is suitable for medium, long-distance and heavy-load transportation of materials, widely used in mining, metallurgical industry and architectural industry, ports.
Specification Availability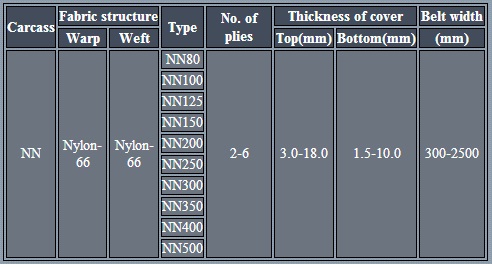 <
Cotton Conveyor Belts: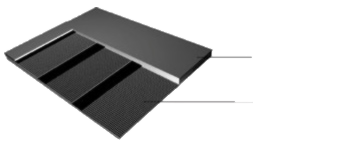 Cotton canvas is woven by cotton fibers both in warp and in weft,its elongation is relatively low, it is good in mechanical fastening and adhesion with rubber.
Cotton conveyor belt has relatively small deformation under high temperature conditions, suitable for short-distance and light-load transportation of materials.
Polyester cotton conveyor belt is the upgraded product of cotton conveyor belt, and its tension resistant body is woven by polyester cotton fibers in warp and cotton fibers in weft.
Its comprehensive physical and mechanical characteristics are obviously better than those of cotton conveyor belt, especially the belt body is thinner and lighter, the belt has better shock resistance and thus the belt has better use function and can reduce energy and material consumption for users.it is the ideal selection for medium, short-distance and medium-load transportation of materials.
Specification Availability

Product Features
Suitable for conveying hot material like powder or clump materials at high temperature.
Ideal for conveying sintered ores, cokes, soda ash, chemical fertilizer, slag and foundry.
It can resist high temperature.
The rubber compound used in the cover have been designed to avoid premature aging due to contact with any source of heat.
Heat resistant conveyor belt can be divided into three types according to working temperature range: HRT-1 ≤100°C, HRT-2≤125°C, HRT-3≤150°C.
Physical Property Indexes
High Temperature Resistant Conveyor Belt:
The belt carcass of this product is EP fabric of high modulus, low shrink, and high breaking tensile strength.
Cover rubber of this product uses EPDM rubber or chlorobutadiene rubber that has very good high temperature resistance.
The belt is made with extra care after mixing rubber with high temperature resistant materials, assembling and vulcanizing.
The belt can bear 250°C even 500°C high temperature for a short time. It is suitable for use in cement, metallurgical and steel industry.
Product Features:
Oil resistant beltcarries parts and components coated with machine oil, heavy-oil treated coal in cooking plants and electric power generating plants, soybean draff, fish meat and other oily materials. Materials containing non-polar organic solvents and fuel. The belt compounded of oil resistant synthetic rubber has good resistance to the damaging effects encountered when conveying oil contaminated or treated materials. Oil resistant conveyor belt can be divided into two types according to cover properties: Anti-abrasive type(D) and Ordinary type(L).
StandardA Belt Feature:
Less swelling when used with various types of oils.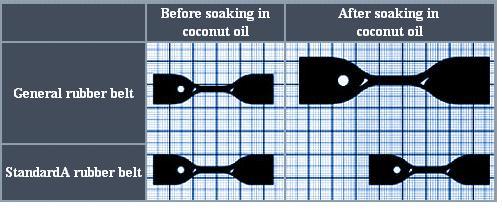 Cover Rubber Property
Characteristics:
The product selects cotton canvas, nylon canvas or EP canvas as carcass, Cover rubber selects a blend of NR and BR, which has the properties of high elasticity, shock resistance, cold resistance etc, It can work normally under the conditions of -40°C.
Usage:
Suitable for conveying materials outdoors in freezing area, cold storage etc.
Cover Physical Property Indexes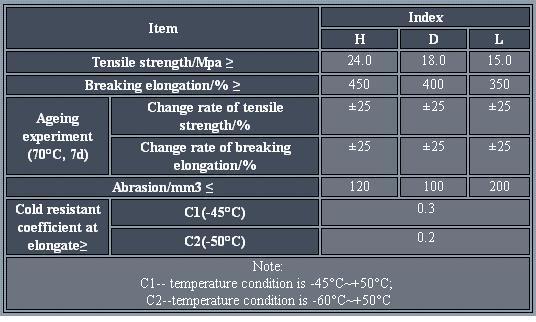 Characteristics:
The rubber cover, which is made from chemical resistant materials, has fine anti-chemical corrosiveness and good physical property.
It is specially made for those materials which would dissolve expand or corrode the belt.
It is suitable for conveying material with chemical corrosiveness in chemical factory,chemical fertilizer factory, paper mill, mining industry etc.
Technical Indexes